Testimonials from the Mothers
Testimonial from the Teacher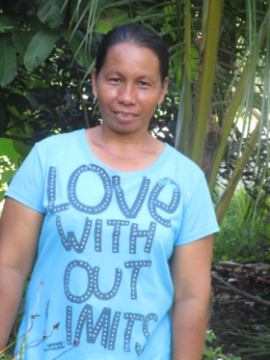 When my husband left us to escape from the law, I felt  such heaviness that I just wanted to drown in  whiskey.   How can I feed my six children by just scavenging?  I got drunk  everyday and got into fights with anybody who  angered me. My husband used to batter me and I was angry at the world. My children were  ashamed of me because  I drank, smoked cigarettes and fought   with neighbors.
 Then, one day  I heard about the  Birthright HALMS program  which gives chance to youths who have stopped schooling. My  boy, John Kenneth wanted to go back to school so he enrolled and was accepted in the program.  Then, my eldest son who used to help me in  scavenging  told me he also wanted to study at HALMS.  He told me he wanted to have a better life than scavenging. So he also went to enroll and was accepted.  One of the requirements of the program was to attend the Value Formation every Saturday afternoon. 
I noticed my boys changing their ways until one day Mark, my eldest son invited me to go with them to church. I thought, I had no time to  go to church as I had to make use of every hour to scavenge to feed my children. How will they be able to eat if I do not work hard?  And how will people in the church who are educated accept a mere scavenger like me?  I was  so afraid  that people in the church will just snob me because I was just a scavenger.  But one day I went.  I was so surprised by the love and acceptance that teachers and ladies  in Birthright  showed me.  I thought, "So they also welcome a scavenger like me".
Then I heard Pastor Jun's preaching on Hebrews 13:5 where God promised to never leave us nor forsake us. I took the message personally.  God will help me take care of my family. That day,   August 5, 2014, I accepted Christ as my personal Savior.  I  have assurance that He will never leave me nor forsake me and He will see our family through our  problems. 
 Today, my elder two boys are in the HALMS program where they have free breakfast and lunch at school.  Teacher Miriam helped me find a transport scholarship for two of my young children.  The Women of Grace of GCF-South Metro are supporting the school fare of my  two children.  In 2014 our whole family went to the  Family Camp at  the Word of Life in Calauan, Laguna.  It was the only time in my life that I have rested for the whole week.  It was a great rest for our whole family where we did not have to work but just eat, enjoy nature  and study  God's Word.  
Today, despite the lack of a father in the family, my children are very happy and obedient to me. All are in Sunday school and I have gained back the respect of my elder sons which I lost when I was drinking.  I lost the appetite to drink and I no longer fight with anyone in the neighborhood. I also stopped cursing.  I am a member of the KAAGAPAY Women's Group  and we meet every Monday evening to study God's Word and encourage each other.   I reserve Sunday for God because he has proven to be faithful. Indeed, He will never leave nor forsake my family. 
Marissa de los Reyes' story...
I was always sitting by the gambling tables in Southside dumpsite. I cheated  in the games but I seemed not to have enough money everyday. I borrowed from my neighbors and did not pay my credits.  I also felt that my children's budget for school fare was a waste so I used it to be the capital for my gambling. I did not care for my children's schooling. I was told by neighbors that I should attend to my eldest daughter's schooling because she is intelligent and  has very good grades.  But most of the time I would prevent her from schooling to watch over her siblings while I gamble with my friends.
My eldest son, Rodel stopped schooling at grade 2.  I came to know Birthright because he wanted to  go back to school at 16. The HALMS program offers free breakfast and lunch for out of school boys who stopped schooling in early grades.  The Alternative Learning System is used so that the boys can be accelerated and finish schooling  fast.  As his mother, I had to attend Value formation meetings for  mothers whose children are in the HALMS  program. The role and responsibilities  of mothers were discussed during the meetings and in August 3, 2013 God touched my heart and I realized I was not a good mother to my children.  I realized how insensitive I was to their needs .  I asked for God's forgiveness and  accepted Christ as my Savior. I  was assured by Hebrews 13:5 that I need not be covetous as God has assured me that He will never leave me or forsake me.  After that,  I lost interest in gambling.  I volunteered as a gardener in Birthright and cooked for  other gardeners.  I began taking care of my children's school needs. I cooked for them and prepared their uniforms.  Last school year my daughter was one of the top students in her classroom. My youngest son was awarded with a certificate for Perfect Attendance in his class last school year.
Today,  I have gained the respect of my husband and my children. My husband respects my decisions and he also stopped gambling. We both know how hard it is to earn money and we were able to construct a better house. I am happy that our whole family pray and  eat our meals together .  I thank God that he opened my eyes just in time  or my children's lives would have been destroyed.